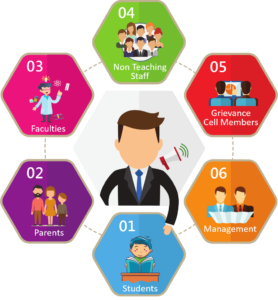 The Student Grievance Redressal Committee is constituted to promote and maintain a favorable and balance educational atmosphere. The grievance of the student will be taken up by the committee resolved within the stipulated time. The cell investigate and examines the nature and the pattern of the grievance in a confidential manner. The committee follows the procedure established by the college as per UGC guidelines in delivering the function of the cell.
Objective of the committee:
To uphold the dignity of the institution.
Encourage the students to express the grievances in the institutional environment.
Educate the students to respect the rights and dignity of one another.
To ensure effective solution to the students grievance with an impartial and fair approach.
Procedure for lodging complaints:
The student can lodge their grievance through written or oral mechanism
Functions of the committee:
The function of the committee is to look in to the complaints lodged by the students and judge its merits. The grievance of the committee is also empowered to look in to the matter of harassment.
The grievance of the committee will assure that the grievance has been properly solved in the stipulated time limit provided by the cell.
To follow the principles of natural justice in considering the grievances.
To conduct the surveys to identify the problems of students and provide suitable solution
The committee deals with the grievance received orally or in writing form the students in any of the following matters:
Academic matters- relate to the timely issue of duplicate marks statement, transfer certificate and conduct certificate.
Financial matters-related to the dues and payment regarding admission, library and hostel.
Other matters- related to conditions of housekeeping and sanitation.
The grievance Redressal cell shall not entertain the following issue:
Decision of the academic council/committee of BOS and other administrative committees constituted by the university.
Decision with regard to award of scholarship and fee concession.
Decision of the university about admission.
Decision by the competent authority on assessment and examination result